All news
January 18, 2021
MUSEUMS TODAY: CONTEMPORARY NARRATIVES AND PRACTICES / WEEK-LONG SERIES OF ONLINE TRAININGS AND EXPERT TALKS
As part of the "COVID-19 Relief Support for Museums and Museum-Reserves" initiative, we are pleased to announce a week-long series of online training and expert talks focused on rethinking the role of museums during and after the pandemic. The series aims to reconsider museums' roles, discourses, and engagement methods in contemporary society, both through digital platforms and physical programs. This series follows the productive discussions started during the June 2020 virtual roundtable around the creative digital initiatives being implemented by Armenian regional museums during the pandemic.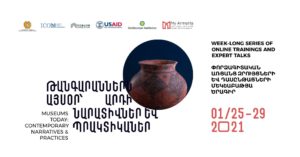 The week-long series of expert online trainings and talks will be held from January 25-29, 2021 in two parts: 
Training focused on digital engagement tools and digital content creation and programming with presentations by museum experts from the Smithsonian Institution and University of Bologna; 
critical perspectives on the narratives being shared by museums and the opportunities for new programs with talks by field experts from Armenia.
This virtual series welcomes both the staff and the directors of museums and museum-reserves of Armenia. The aims are to encourage them to rethink their narratives and practices with regards to contemporary society's needs and transformations, to explore meaningful opportunities to be socially significant to the citizens of today and tomorrow, and to enhance their engagement with different target audiences, both online and in person. These sessions will allow participants to interact and exchange with museum professionals from Armenia, Italy and the U.S. and broaden the museum network to be more inclusive, collaborative, and forward-thinking. 
This series is being offered free of charge, and registration is required by January, 23 2021, 12։00 am Yerevan time. Once registered, participants will receive a zoom link to join. Participants who attend 80% or more of the virtual training series will receive a Certificate of Participation. 
Part 1 of the training will be conducted in English with simultaneous translation in Armenian.
Part 2 will be delivered in Armenian. 
COVID-19 Relief Support for Museums and Museum-Reserves Initiative
In response to the challenges posed by COVID-19, The Ministry of Education, Science, Culture, and Sports (MoESCS) of Armenia, the ICOM National Committee of Armenian Museums (ICOM Armenia), the My Armenia Program (MAP), and the Regional Center for Cultural Heritage Enhancement, Management and Protection (ROCHEMP) have been working together over the last ten months to support the museum and cultural sector of Armenia through virtual conversations, access to professional resources, and direct relief support.
Download the Training & Talks Program